The Northern Forest has already established over 3 million new trees since 2018 and is transforming the landscape from coast to coast and in and around cities such as Liverpool, Chester, Manchester, Leeds, Bradford, Sheffield, York and Hull.
The area is home to 13 million people, but it only has 7.6% woodland cover – much lower than the UK average of 13%. Our 50 million trees are transforming this landscape and creating a real asset for the communities that live nearby.
By establishing more trees we are:
creating thousands of new jobs
reducing the risk of flooding
locking up thousands of tonnes of carbon to fight climate change
creating more resilient landscapes to encourage nature recovery
making people across the north happier and healthier
Growing a better future
The Northern Forest is well on its way to planting millions of trees. These trees are helping our wildlife to thrive, creating better connected and extensive new woodland and protecting ancient woodlands.
When we hit that 50 million milestone, the Northern Forest will be an even more beautiful and resilient area in which to live, work, explore, learn and play.
Who's delivering the Northern Forest?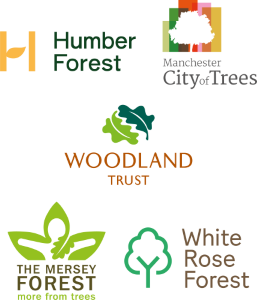 Working together, the Woodland Trust and the Community Forests in the north of England – The Mersey Forest, Manchester City of Trees, the White Rose Forest and Humber Forest – are bringing the Northern Forest to life.
Each works across a different area in the Northern Forest. Find out who's working in your area.